Embrace the luxury
of simplicity!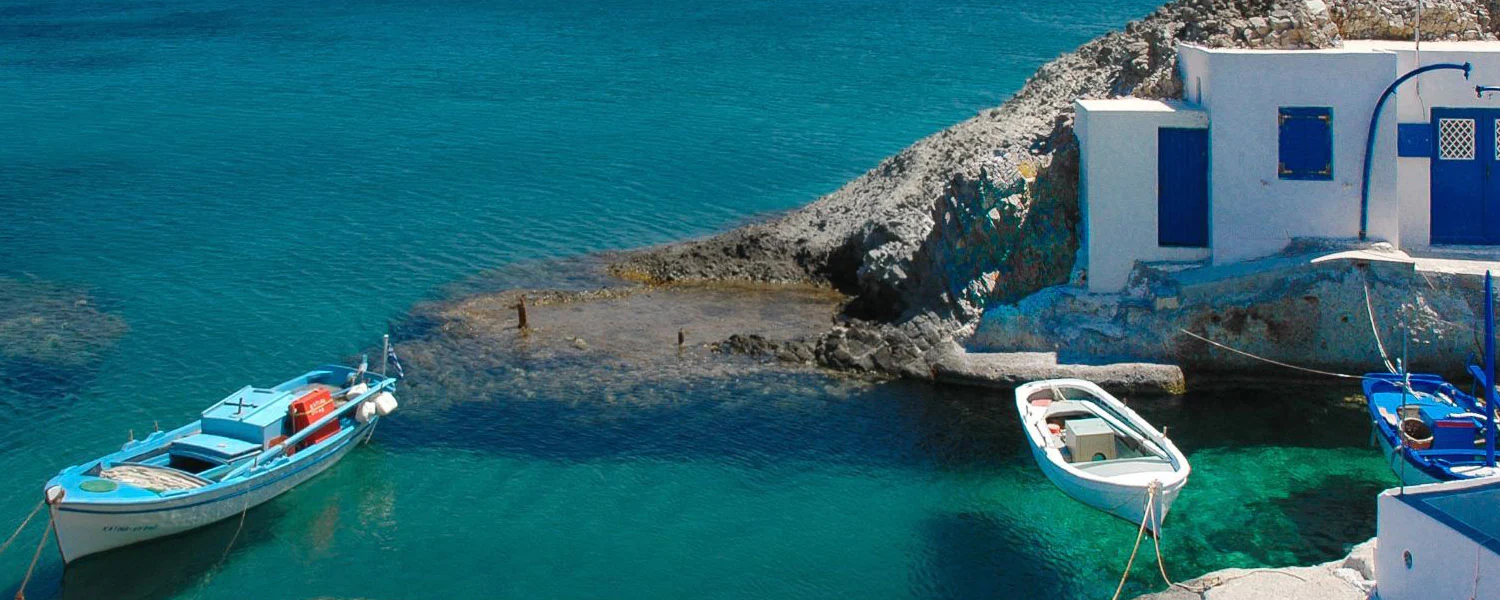 If you want to spend a few days within calmness and living local authentic experiences, you should definitely buy a ticket to Kimolos island.
Kimolos, an eminent jewel of Cyclades island chain, is a Greek island in the Aegean sea. It belongs in the island group of Cyclades and lies near Milos.
Picturesque architecture, breathtaking beaches and turquoise waters… it's not hard to see why the island is a paradise regained.
The rhythm of daily "Kimolian" life makes you forget what day of the week it is. Breakfasting on warm ladenia
(local, traditional dish) from the bakery, stopping off at traditional cafes, market shopping, sunset walks, swimming,
siestas under the sun, generous taverna meals, peaceful atmosphere, natural beauties…all are green lights to relaxation and mindfulness.
A visit here calls to mind what makes life beautiful: slow living and simple pleasures. That, actually, may be a large part of the island's appeal.
Discover
Chorio of Kimolos
Most of the inhabitants of Kimolos live at Chorio ((not chora) which is located on the foot of maountain Xaplovouni. At Chorio someone can visit the Venetian Castle, the Museums (Archaeological and Folklore) and post Byzantine churches.
The Best feature here is the Venetian castle, located at the highest point of the island, which has two parts: the inner castle (Mesa kastro) and the outer castle (Exo Kastro). White washed, Aegean-style houses surround the castle and take advantage of the slopes and the peculiarities of the terrain.

A stone's throw away from kimolos lies the island of Polyaigos. It is an exotic paradise on earth and the largest uninhabited island of the Aegean Sea. Polyaigos in Greek means "with a lot of goats" and this name can be easily explained by its inhabitants …which are mostly wild goats!
Polyaigos is also known for its rich industrial minerals and the rare or even endangered endemic species of fauna and flora. It hosts the Mediterranean seal Monachus Monachus, the adder Microvipera schwaizeri, the falcon Falco eleonore fasciatus and many other rare, endemic or endangered species. The island has been incorporated to the network of Natura.
Do not forget to visit the lighthouse on cape of Maskoula which was built in 1898. It is 9 meters high and its luminosity reaches the distance of 27 miles.
Turquoise waters, bright white sand lying on the seabed, caves and carved rocks constitute natural artistry, inspiration and a good reason to spend some time there.
Psathi, Rema - Karas, Klima, Goupa, Prasa, Monastiria, Soufi, Agios Nikolaos, Bonatsa, Aliki, Kalamitsi, Mavrospilia, Dekas.